My art celebrates women, honoring their accomplishments and embracing their struggles through personalized portraits. With each stroke, I weave inspiring words that uplift and empower, igniting a sense of self-love and worth.
My ultimate goal is to transform lives and remind women that we are deserving.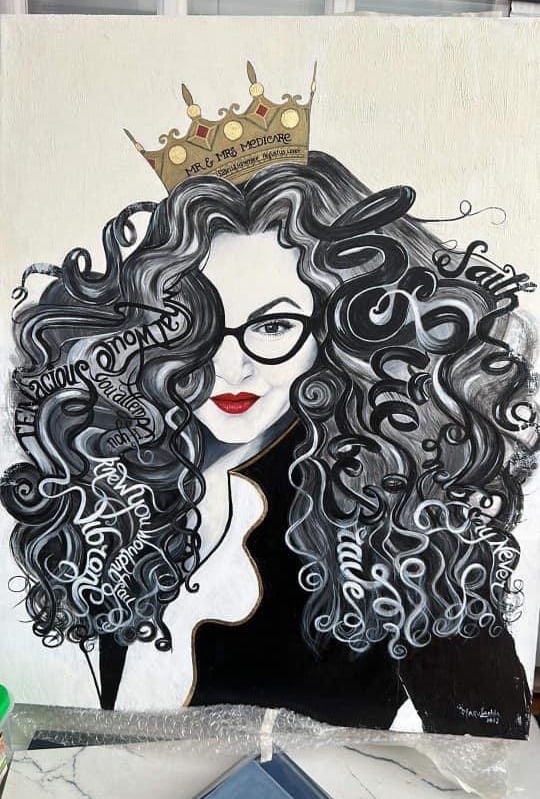 Hi, I'm Claudia.
A New York City-based visual artist, and my passion is to use art as a tool to empower women.

For most of my young adult life, I pursued a career in graphic design, working in the publishing industry. However, it wasn't until I hit an emotional rock bottom that I rediscovered my passion for art.
Art became my medicine, a source of healing, and a place for self-expression when I needed it the most. Creating art became a way to relieve my pain, release suppressed emotions, and be empowered. This source of expression led me to make my unique style of weaving words into each subject's hair to convey a feeling or tell a story.

I've been engaging in this wonderful activity for the last ten years. I know first-hand how mighty and powerful art is for our emotional health. I have benefited from its magical and healing powers. For this reason, I use art to celebrate women by painting unique and personalized portraits where they can tell stories of their resilience and success.
I also facilitate expressive art workshops and events to help women struggling with emotional distress to heal one art piece at a time, transmuting the pain into empowerment.
These workshops have led me to participate in retreats and work with coaches, organizations, and corporations to complement their services in helping women heal and envision a better version of themselves.
The purpose is to remind women of their magnificence!
Current Certifications: Minority women-owned business enterprise certificate • Neurographica basic level certificate • Therapeutic Art Life Coach Certification.
INSPIRATION
I desire to use art as a tool of empowerment to heal hearts and help women express their magnificence.
TECHNIQUES
My curiosity has led me to be comfortable experimenting with different techniques and tools. As I create, I see what I enjoy the most and keep doing more of that!
CAREER HIGHLIGHTS
I was an Art Director in the publishing industry for magazines such as Interior Design and Parents. I later became a freelance Art Director for catalogs such as Sotheby's and Avon.
My art business has been designated as a "Trusted Art Seller" with The Art Storefronts Organization, which means you can shop with confidence, and know that I stand behind the quality and value of my products.